Why you should be concerned with your pet's oral health?
Ongoing research shows the link between oral health and overall health. Keeping your pet's teeth and gums healthy allows them to eat normally, keeps their breath fresh and can add up to five healthy years to your
pet's life.

What is PlaqClnz?
PlaqClnz is Zinc-based, easy-to-use pet oral health care get that treats and helps prevent bad breath, plaque, tartar and gingivitis. Used regularly, it keeps pets' breath fresh and protects against the early stages of periodontal disease.
Simply apply a few drops onto each side of your pet's mouth – there's no brushing required!
The all-natural PlaqClnz formula:
Includes Zinc and Taurine (an amino acid)
Is taste-free and alcohol free, for easy pet acceptance
Is the non-anesthesia alternative to more invasive dental cleanings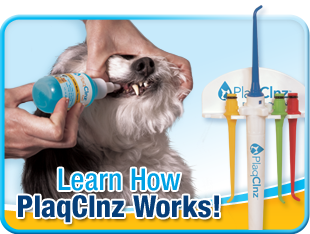 "At any one time, 80% of all dogs and 70% of all cats show signs of dental and oral health diseases. Regular dental care can add as much as five years to a pet's life."
— American Veterinary Dental Society
The pet oral cleansing system designed for dogs and cats of all ages.
PlaqClnz Spray and Gel are the only alcohol free pet oral care products that reduce plaque and tartar without brushing. They contain scientifically proven, natural ingredients including Zinc complex, which stops odor formation, interferes with tartar growth and may aid in healing soft tissue.
An authorized PlaqClnz Groomer will use PlaqClnz Spray along with the Oral Irrigator to quickly clean and freshen your pet's mouth. You'll be encouraged to continue using the at-home PlaqClnz Gel product.
You'll find PlaqClnz Gel affordable (suggested retail $15.95) easy and comfortable to use thanks to its neutral pH and taste-free formula. Even the most finicky dogs and cats will accept PlaqClnz.

PlaqClnz eliminates pet's bad breath, protects oral health and helps add up to five healthy years to your pet's life. Contact Us for more information: plaqclnz@smartpractice.com